You may have heard that Walk In The Woods is filming now in the Atlanta area, and Friday I was cast as an extra in a bunkroom scene with actors Robert Redford and Nick Nolte. True to the book, it was set at Rainbow Springs, N.C. after an April snowstorm. Needless to say, I had the Appalachian Trail on the brain and talked two friends in to a hike this weekend on the Trail. Took my backpack straight from the set, and arrived at Hightower Gap on the A.T. on a beautiful spring day.
We had sunshine and cool temps with mountain breezes all day and climbed ~500 feet to the shelter with leaves just beginning to break out on the trees.
Campsites are plentiful at the shelter, but with kids in tow – we opted to camp on the ridge at the junction with a blue blazed side trail. The bonus – many hikers passed by and had interesting stories to tell.
After setting up camp, we walked down to the shelter to chat with some of the other backpackers. Two were hiking to Damascus, VA but we only ran in to one thru-hiker this trip who intentionally waited until late in the season to start and miss the masses.
Then back to the campsite where the dog relaxed …
And the kids entertained themselves with making bows and arrows…
A great night in general and a beautiful evening in the backcountry – with a spring sunset through the trees and stars and a cresent moon lighting the sky. No wonder we stayed up until after 1am.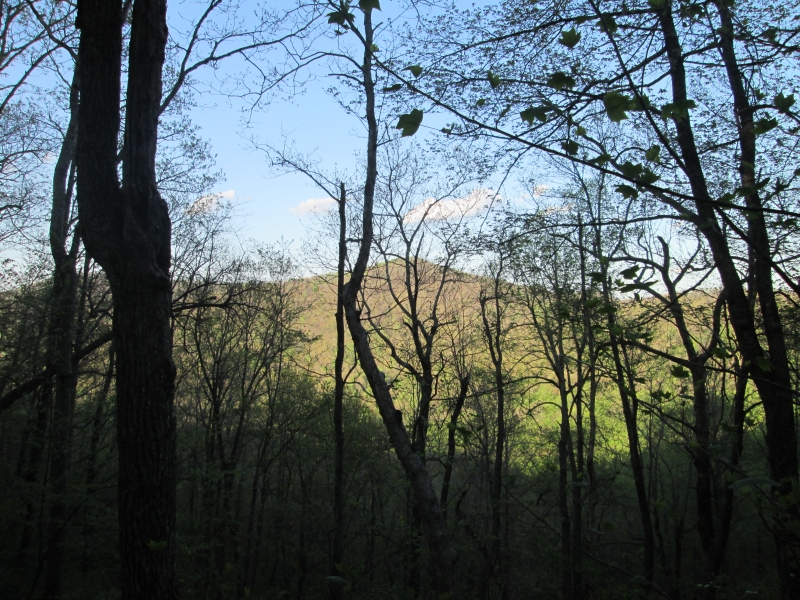 Hopefully, Walk In The Woods captures this kind of Spring magic on the Trail. And from what I've seen so far … it will.